Today we were going to learn How To Create XML Sitemap For Blogger Blog – Site maps, XML & HTML sitemaps are indeed influential when it arrives at Search Engine Optimization. These two have indeed significant territories to recreate in aiding Google to comprehend & discover your post and pages.
Actually, what is the function of these sitemaps & what is the system of their working & how sitemaps may affect SEO? All these queries we were going to discuss ahead, so just be here.
Types Of Sitemaps
There are 2 kinds of Sitemaps we have.
HTML SiteMap
So An HTML site map is practically a link, post or page including an inventory of all the existing pages on the blog. In simple words I try to explain, HTML sitemap means it keeps all of the important links of your blog or site. Here you have to refer to all major Search Engines like Google, Bing, Baidu, Yandex, that index your blog site data as you want.
Of curse, every blogger wants to tell SE that this is my blog post. So that's why it's important to create your blog HTML sitemap and be kept updated as a Technical SEO expert.
Check: Full Guide What Is A Technical SEO Audit?
XML SiteMap
In very simple words if I would explain here What is XML site map is actually, so say that Sitemaps are really roadmap or structure of a blog or website. Through this roadmap, a blogger set his goal for indexing. So XML sitemaps are the best way for a Blogger to tell Search Engines that include my site results in search queries.
Difference Between HTML Sitemaps & XML Sitemaps
| HTML Sitemaps | XML Sitemaps |
| --- | --- |
| HTML sitemaps are users sitemaps. | XML sitemaps are used for SEO. |
| HTML sitemaps enhance the look and feel of the website. | Make easier for SE "Spider" to "Crawl" through a website. |
| Communicates the overall theme of the site. | Helps Search Engines to index the content of the blog. |
| Organized each section of the website. | Communicates any websites changes to SE. |
| Makes ease in user navigator. | External Links are not relied on to index a site. |
| Make easier for users to internal link within blog. | All of the pages of the websites have an opportunity to be indexed. |
| Usually used for big websites. | Helps SE "Spiders" to index site faster. |
How To Create/Generate A Sitemap For Blogger
It is important to submit a sitemap whatever you running a WordPress Site or Bloggers blog. There are a few steps to generate a free XML site map for your blogger blogs. Just follow these simple steps if you also want to construct a sitemap for your blog.
Visit Sitemap

Generator 

Now type Blog/Site link address
For generating  XML sitemap press "Generate XML Sitemap"
Go To Blogger.Com
Save In Robots.Txt
Visit Sitemap Generator
In the very first step for creating a sitemap for bloggers, you have to visit the site which provides service about sitemap generating. Just go to lebonal.org and find the blogger sitemap page. As shown in the image below.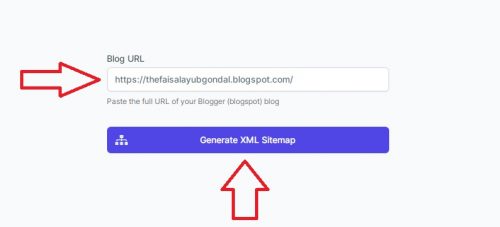 After reaching the Sitemap generator page, now type your blogspot.com blog address as in the above image and then hit "Generate XML Sitemap".
Direct Link: Generate XML Sitemap
Go To Blogger.Com
After generating the XML sitemap now just go to Blogger for further steps, check the photo below.
After reaching your Blogger or Blogspot dashboard now just follow little steps for completion of the process. Find on the left bottom of the blogger dashboard you can find an option "Setting". Just hit press the "Setting" button.
Save In Robots.Txt
As you just click over the setting option now you see a detailed page including several options. You have to find it here Robots.Txt section.
First of all, enabled the Robots.txt option in Crawlers and indexing. After enabling the Robots.txt now paste code in the custom robots.txt section and press "Save".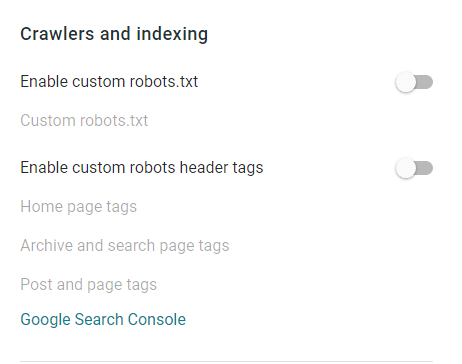 .
How To Submit Sitemap To Webmasters/Search Console?
After generating the XML Site Map code, you just saved code in Robots.Txt in the Crawlers and indexing section of settings. Now the next step is to connect your blogger sitemap with Google Search Console. Just follow the following steps for a better understanding.
Open Google Search Console
Verify Your Property
Submit Site Map.
Open Google Search Console
For submitting a sitemap to Google just go to "Google Search Console" first as shown below in a photo.
Verify Your Property
After launching Google Search Console, now first of all verify your domain or blog here. The verify section looks as below in the image. Enter your blog address in the URL Prefix section and click "Continue".
When you click "Continue" after this just wait little seconds, and a pop-up window would appear showing the message that your property is verified successfully.
Submit Sitemap
After successfully verifying your blog ownership in the search console now click "Go To Property". Then follow the Sitemaps section on the left in Search Console as you see in the image below. Then just type in"Add A New Sitemap" after your domain name sitemap.xml and hit "Submit". After pressing submit button now our sitemap is successfully submitted to Google.
If you doing blogging and intense due to not getting traffic on your blog then must check whether your blog pages are shown in Google or not. So if your posts are not indexed in Search Results then analyze your sitemap. Simply Generate an XML sitemap by reading carefully this article and then submitting it to Google Search Console. Surely you getting results after some days. 😀 Now if the article really helps you then just share your experience in generating a site map for a blog in the comments below.