Before starting any of "Google" services usually, we need an account on Gmail – So you must know How To Create A New Gmail Account for free.
If are searching free method for making a new Gmail id and want to make a free Gmail account or address for enjoying various offered services by Google, then you just need to follow a few steps with an easy guide and explanation. Gmail account helps a user to access several famous platforms of Google-like, including Playstore, Youtube, Adsense, Cloud and other Products of Google. If you want to make an account on Blogger you need to create a Gmail Id, so now just follow the above steps.
Here you can learn how to make a Gmail account with the help of three methods.
Create Gmail Id Through Google Home Page
By Typing "Create A Gmail Account In Google"
By Direct Link
Create Gmail Id Through Google Home Page
Learn with steps how to create a free Gmail account first of all lunched your browser and explore Google.com on the internet browser. Here you can see on the top right corner of the browser an option Sign In as shown in the image below and the sign-in button is highlighted with a red colour block for your ease.
After clicking the Sign-in button you would see a box as given in the picture below. Here Google asks you to enter your email and password for login. But unfortunately, as a new user or do have not yet your Gmail account so for.
so making a new Gmail id you need to click on the "Create An Account" button which is shown below the sign-in box. You can see the Create an account button below in the picture highlighted with a red circle.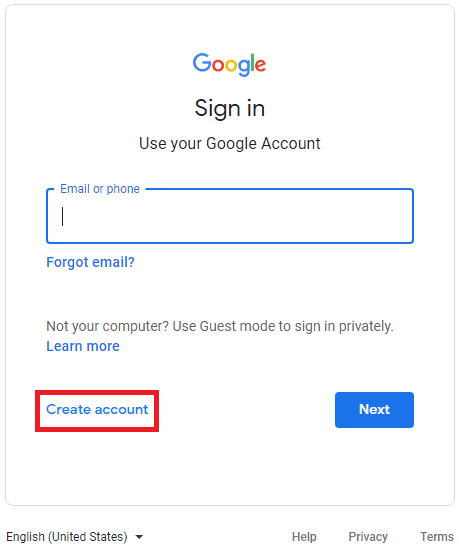 By typing "Create A Gmail Account" in Google
You can also sign up for a Gmail id by typing "Create A Free Gmail Account" in Google,
as shown in the image given below.
Third Method by Direct Link:
If you want to make a free Gmail address or Sing up through a direct link then click Here.
When you hit "Create Account" you have three choices of options for making a Gmail account, it's up to you which option you may select, these options include:
For My Self
For My Child
To Manage My Business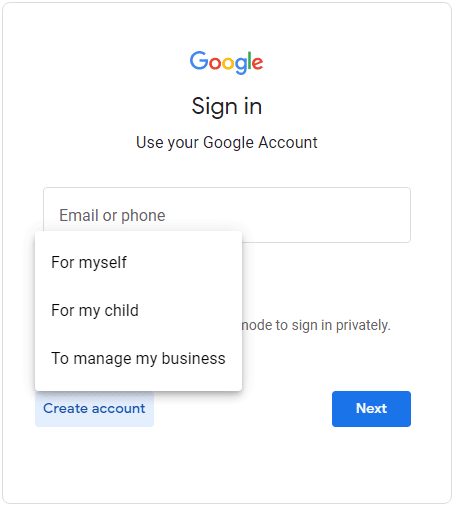 Now by following any one of these three steps you can see a free Sing Up form. So to create a free new Gmail id you just need to fill out all the necessary required fields on the registration form. You can see a complete filled form below. This sign up form required some personal information from your as mentioned below.
And now for creating a free Gmail id or account click on the "Next" for Finishing the Sing Up process.