Here through this article, I'm going to teach you How To Create A New Post In Blogger? You can get a complete guide about Making a new post on Blogspot.
As in our recent post, we learned in detail about How To Create A Blog? So now the question is that it is enough to just make a blog?
No! it is not enough to just create a blog and sit and relax, but infect after the creation of a blog you must have to publish content on it. You can tell people about your blog and topic by publishing the latest and trending content on your blogs.
It is compulsory to sort out the kind of posts or keywords which people already searched on search engines. Like that it is easy to reach targeted traffic. People search for their desired topics on Google and they reached your blog post through their search queries. It is all possible only if your content is valuable and user friendly. So for publishing high-quality content you must have to learn how to make a blog post free in blogger. For learning just keep reading ahead guide with care.
Adding A Post To Blogger Blog
For adding your first blog post on blogger you need to log into your blogger dashboard first. Making posts on blogger is very simple all essential steps are mentioned below.
Log in to Blogger
Click New Post
Add Title of Post
Add Description or Details of Post
When you log into your blogger you can see on the left side of the blogger dashboard an option "New Post". Just click this button.
Once you click on the "New Post" button, now a complete layout is open in front of you. Here is some of the important information about your post that is required to publish it.
How To Add Image In Blogger Post
Adding a picture to a post is a good technic to attract users to your blog post. If you want to a photo in your blogger post then just follow this guide.  You can see a "Small Icon" of the picture in the task menu of the post, so click on the little image icon for adding new photos.
After clicking the image icon now you see four options for uploading an image to your post.
Upload from Computer
Photos
Blogger
By URL
Now for example if you want to "Upload From Computer". Just click on this option for uploading images. After clicking you can see the option "Choose File'.
After clicking on Choose File, now you have to select an image from your computer and once you upload the photo just hit Publish post.
How To Add Video In Blogger Post
Adding videos to blogger posts is also an easy process, you have to just follow the simple steps. If you want to add a video to the blog post then you can find a video icon on the upper menu bar of the post dashboard. Once you click on the video icon you have two options for uploading a video into a blogger post.
Upload From Computer
Youtube
Add Link
You can also add a link to your post content in blogger. It is quite simple to add URLs to images and text during the process of making a post. Check below in the image for a better understanding.
Add Headings
During article writing in a post, there is also an amazing option available for highlighting the most important content. Headings play a vital role in the content, which also became the best way to attain a good rank in the search for content. In the paragraph there are various options are available which are mentioned below the image.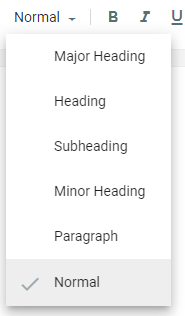 You have to put your post "Title" and then you need to write an article about your content. After using your post title and description, image & video now you have three options for your content. These options are mentioned below.
Save To Draft
Preview
Publish
Now it's up to you what you want to do with your blog post after writing, you want to save it to draft, want to preview or publish.